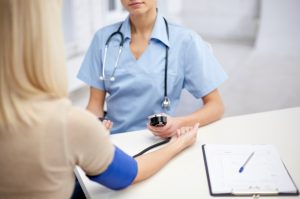 If you wish to drive a commercial vehicle for a living, you will be required to receive a DOT exam periodically. To obtain a commercial driving license, you will be required to pass this exam first. The DOT exam is designed to measure a person's general health to ensure that nothing will negatively impact their ability to drive the vehicle.
Vision – Commercial drivers are required to have 20/40 vision with or without glasses or contact lenses.
Drug Use – The use of drugs while operating a vehicle can severely impair your ability to drive. The DOT physical uses a urine test to make sure that commercial drivers are not using controlled substances.
Hearing – The Department of Transportation requires drivers to have good hearing. To pass a DOT exam, you must be able to hear a forced whisper with one ear from a distance of five feet without the use of a hearing aid. If you only wear a hearing aid in one ear, you can still pass the DOT exam.
Neurological Screening – If you have epilepsy or a history of seizures, you will be disqualified from receiving a CDL. This policy is in place to ensure that commercial drivers do not endanger the safety of others and themselves should they experience a seizure on the road.
Cardiovascular Screening – Good heart health is also required to pass the DOT exam. Blood pressure readings are used to assess your risk. Drivers who have diagnosed heart conditions are asked to bring a letter from their cardiologist that outlines their medical history and heart medications they are taking.
The DOT physical must be completed by a qualified examiner, like the staff at Pinnacle Medical Management. When you need a DOT physical in Corpus Christi, TX, Houston, Dallas, or San Antonio, contact Pinnacle Medical Management. We have four convenient locations to serve our customers.